Francesca's latest album 'The Land Of Sometimes' will be available from the 6th February.
This beautiful children's album has been a labour of love for 3 years. It is a creative and collaborative feast involving 14 different actors and musicians, alongside old band mates and co-producers Chicky Reeves and James Watson.
This project means great deal to Francesca, giving her writing skills a chance to explore children's rhyme and psychedelic humour. Couple that with her songwriting talents, and you are left with a smile on your face, and the album 'The Land Of Sometimes'.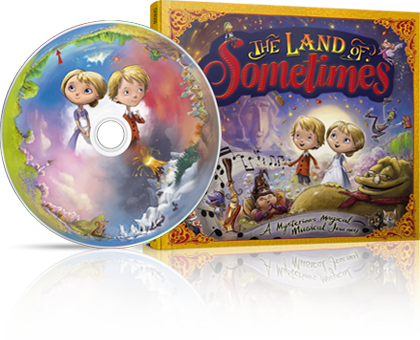 1. Dare Make A Wish
2. Across The Deep Deep Blue
3. The Ballad Of The River Slouch Sling
4. The Ditty Of Little Twink
5. Mrs Blip's Bonanza
6. The Hymn Of The Willow Tree Choirboy
7. Mr Smaller Than Smaller Than Smaller Small Think
8. What Colour Are Your Days?
9. The Chant Of The Chameleon Catcher
10. The Anthem Of the Man With The Flying Feet
12. The Song About Holly And George
13. The Poem Of The Guardian Of The Electric Volcano
14. The Jig Of The Frosty Fish
15. Return Journey
16. Hush

Concept, Words and Song Lyrics: Francesca Longriggmusic
Written and Produced: Francesca Longrigg/Chicky Reeves
Additional Production and Writing: James Watson

2011 One Fifteen © 2011 One Fifteen. All songs published by One Fifteen Music except tracks 6 and 15 published by Chrysalis music.

"Every now and again, something comes along which is quite simply, perfect. The Land of Sometimes CD is just that. I implore you, if you buy one music CD for your kids this year, make it this one."




"A few weeks ago we were sent a magical new CD, this is aimed at children aged 2-99 and has instantly become a favourite of ours."




"The CD is a mixture of a narrated story, and songs covering a whole range of musical styles, from reggae to Irish Folk, disco & jazz, it's a good introduction to different types of music, and it keeps your attention too."



"The Land of Sometimes will be a magical edition to any home, providing a wonderful storytelling experience to families. Perfect for bed times or on car journeys, it really is enthralling and entrancing."




"We all really enjoyed listening to the CD and I can see this becoming a firm favourite in The Madhouse. It would also be great for putting on in the car on a long journey to help while away the time."




"A beautiful gift for any child with a fondness for stories or music and something that can be treasured for a long time."